An effective health and safety program changes with the times. Permissible exposure levels, indoor air quality, illness and injury prevention programs (SB198), and increased penalties for OSHA violations are just a few examples of the evolving nature of occupational health. Our industrial hygiene and safety expertise can help you deal with the increasing scope and complexity of today's occupational health liabilities.
Acumen offers professional services in the design, evaluation, and implementation of complete or partial workplace health and safety programs for most industries. We can prepare and implement your respiratory protection program, survey your workplace for health and safety hazards, develop air sampling plans, review your ventilation system, help you with hazard communication, and train your workforce on a variety of health and safety topics. We offer these services in English, Spanish, and Cantonese.
The following projects illustrate the breadth of our experience and our ability to address a wide variety of issues for engineering firms, manufacturing companies, housing agencies, and county governments.
Project: Certified Industrial Hygience Services
Client: California Department of Transporation
Location: Statewide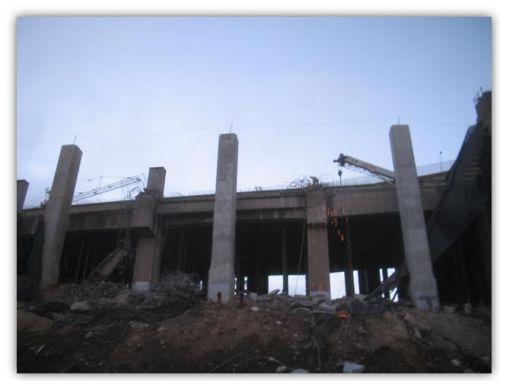 Oakland Bay Bridge DemolitionAcumen Industrial Hygiene, Inc. (Acumen) is a California Department of Transportation (Caltrans) as needed contractor for statewide certified industrial hygiene (CIH) services. Acumen has extensive experience in preparing, reviewing and approving environmental compliance documents including Health and Safety Plans, Lead Compliance Plans & Air Sampling and Analysis Plans. Acumen often performs training for Caltrans and construction personnel. We are thoroughly familiar with health and safety training requirements of Cal-OSHA and policy requirements of Caltrans including personal protective equipment, lead compliance, fall protection, noise exposure and confined spaces. Acumen also has extensive experience in air monitoring for employee exposure limits and other environmental compliance issues. Recently Acumen has performed respirable dust and silica monitoring during the San Francisco Oakland Bay Bridge demolition and is currently exposures for the Carquinez Bridge demolition.

Copyright © 1999 Acumen Industrial Hygiene Inc
1032 Irving Street #922 San Francisco CA 94122
Tel 415-242-6060 Fax 415-242-6006
info@acumen-ih.com